If you're following a vegan diet, it can often be a challenge relating to your non-vegan friends and family members, particularly in the realm of the culinary.
This makes it not uncommon for vegans to have a desire to introduce vegan foods to their non-vegan friends and family, whether as an attempt to convince them to become vegan, or whether they simply want to impress them and demonstrate that contrary to what they may believe, vegan food can be and is good.
With this in mind, we have compiled a list of the top 10 vegan foods items that we believe will impress your non-vegan friends and family members.
1). Beyond Bratwurst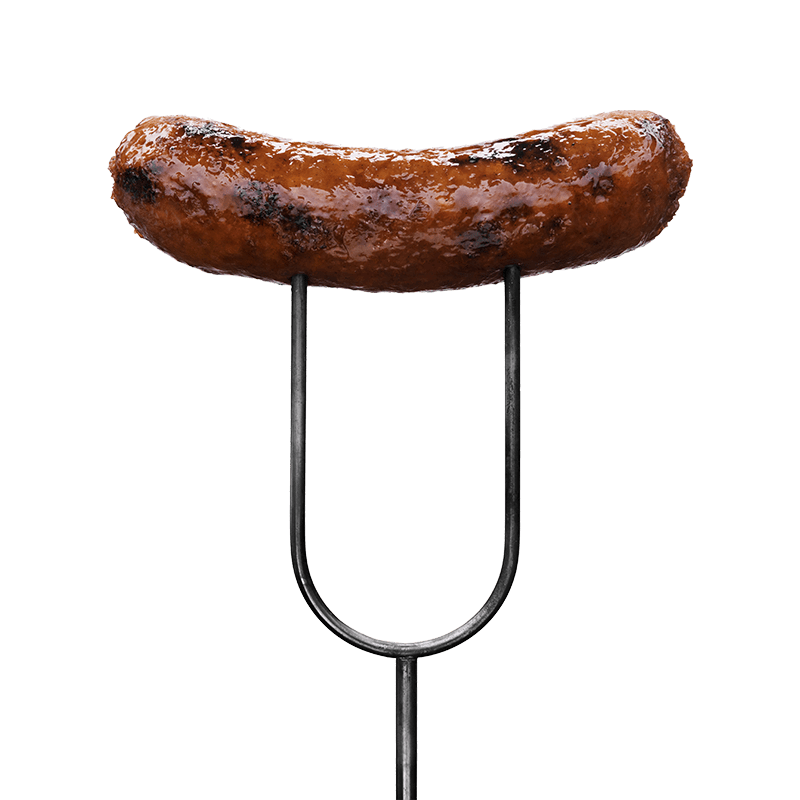 Beyond Burgers are, in our view, quite delicious. However, they do have a particular aftertaste that some people don't enjoy.  Competitors like Impossible Burger have also gone quite mainstream, making the concept of a good vegan burger less impressive in general. Vegan sausages, on the other hand, don't quite have the same reputation. Many people have not tried Beyond Sausages, or Impossible's recently released equivalent. This allows Beyond Sausages – and this includes their bratwurst as well as their Italian sausages, though for the sake of this article we chose bratwursts – to stand out as a perfect item to show those non-vegan individuals in your life that vegan food can be damn good.
Beyond Sausages, especially when cooked just right (long enough to allow the casing to have a nice pop), are absolutely delicious, and are one of the most realistic vegan meat products on the market. We suggest serving the bratwurst on a bun with mustard and sauerkraut, or serving the hot or sweet Italian sausages over angel hair pasta and red sauce. Yum!
2). Chao Cheese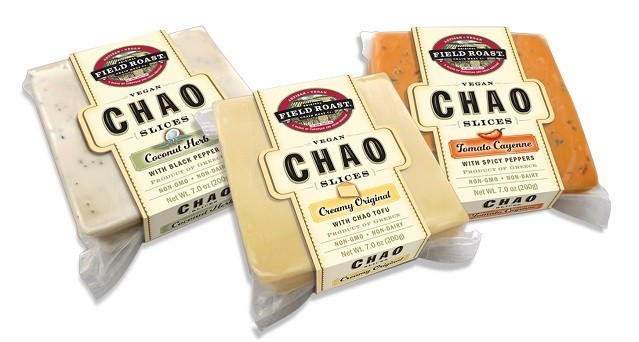 There are a lot of vegan sliced cheeses on the market right now, with some much better than others. Several of them would be solid items to fit this list – we're looking at you Follow Your Heart and Violife! – but the one that our staff agreed tops the chart at least in terms of mainstream appeal are Chao slices. Made in Greece using coconut oil and fermented tofu, Chao slices are creamy, delicious and melt well. All three flavors are great: You can't go wrong with the "Creamy Original", but depending on whether the person is a fan of a strong herb flavor (Coconut Herb) or cayenne pepper (Tomato Cayenne), the other two might be better choices.  Either way, we haven't found many people – vegan or not – who are not big fans of Chao after trying it.
3). Just Egg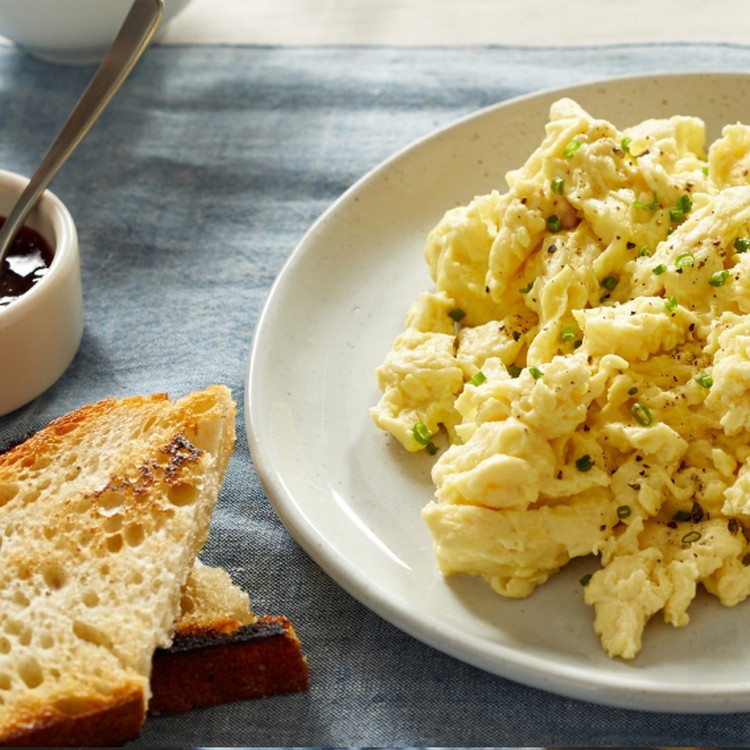 Just Egg has been a revolution for veganism and for those following a plant-based diet, providing an egg substitute that's incredibly in its ability to perfectly mimic real eggs. Whether making scrambled eggs, an omelet or egg wash for French toast, Just Egg is incredible, and without all the cholesterol (not to mention the yuck factor) found in real eggs. The massive demand for this product since its release several years ago has led to shortages in many parts of the U.S. and other countries. Lawsuits have attempted to force a name change, to no avail.
The fact that Just Egg is made using mung bean increases its impressiveness by at least a few points (though we recommend unless they ask not mentioning this until after they've tried it, to avoid any potential negative bias it could give them).
4). Oui Dairy Free Yogurt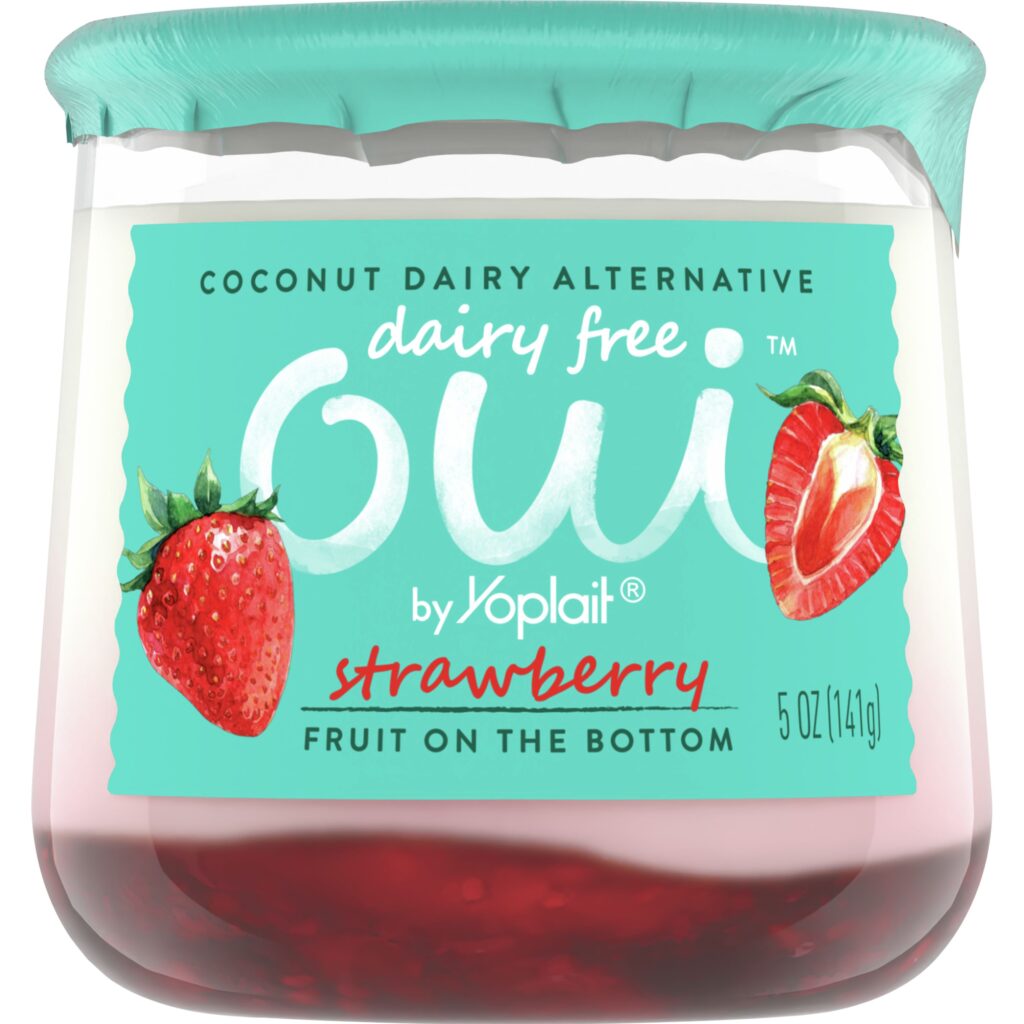 Oui Dairy Free yogurts, made by Yoplait, comes in five different flavors: Pumpkin caramel, vanilla, strawberry, rasberry, mango and coconut. All of these are good, but the ones with the fruit at the bottom, especially the strawberry, are the best. The yogurt is thick and creamy, and quite a bit more so than most other vegan yogurts. The pureed and sweetened fruit on the bottom really take things to the next level, making these a delicious and relatively healthy treat.
5). CocoWhip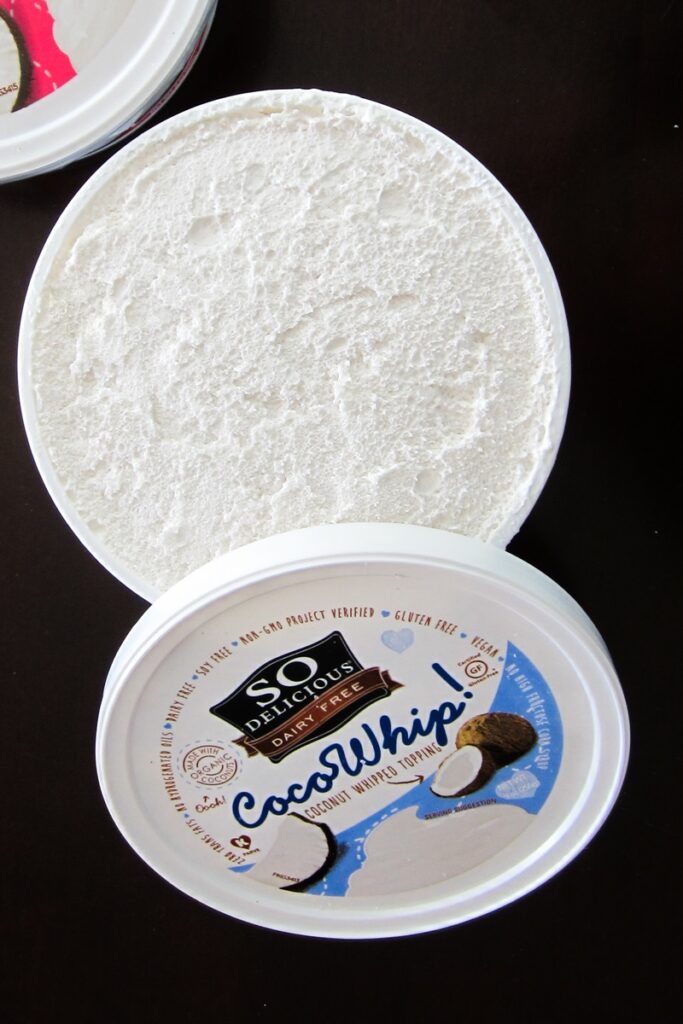 CocoWhip is one of the only vegan whipped creams sold at many groceries stores. Luckily it happens to be delicious, and does an exquisite job of serving as an alternative to normal whipped cream. It has a perfect texture and a great flavor (which has just a hint of the coconut oil it's made with). CocoWhip is good on ice cream, pudding, over fruit, etc., but also makes a tasty treat eaten by itself, especially if it's frozen first.
6). Kind Frozen Treat Bar, Peanut Butter Dark Chocolate Nut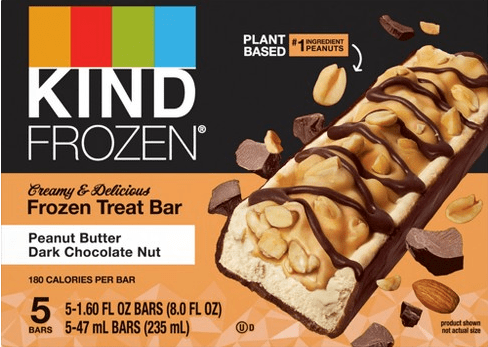 Kind Frozen Treat Bars, which can now be found at many major retail outlets like Kroger and Safeway, are the type of item that non-vegans would have no idea it doesn't contain dairy. Creamy, smooth, rich and delectable, these bars are a solid offering  if trying to impress your friend with a vegan ice cream bar, and they stand out from the crowd by more closely resembling a frozen Snickers bar than the standard chocolate covered ice cream on a stick.
7). Oreos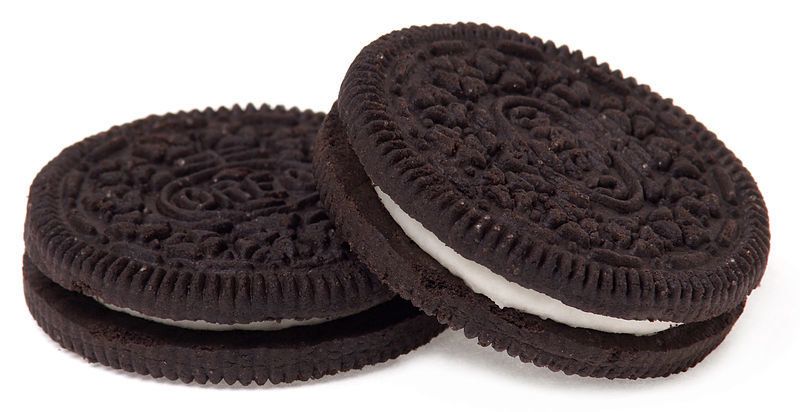 "What do vegans even eat"? Many of us have been asked.
Oreos. Oreos are what we eat.
Or, at least, what we can eat. And this is a surprise to many.
Oreos fall in the "accidently vegan" category. Whereas every other item on this list is explicitly marketed as vegan or plant-based, Oreos traditionally have not been. It just so happens that the cream is made of oils and sugar, not animal products, and the chocolate cookie is also free of any animal products.
8). Simple Truth Plant Based Dairy Free Chocolate Swirl Cheezcake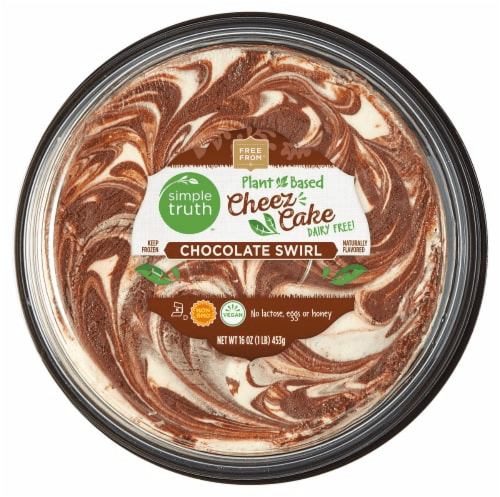 Simple Truth's Cheez Cake, sold at Kroger stores like Fred Meyer, is one of if not the best vegan cheesecake we've ever had. It runs laps around its closest competitor (Daiya's Cheezecake). The strawberry swirl and New York style options are also delicious, but the chocolate swirl is really in a league of its own. Made primarily with vegan cream cheese, the texture is exactly what you want out of a cheesecake, and the flavor is top-notch. I think any non-vegan would be hard pressed to not really like this, and be impressed by how good it is.
9). Gardein Ultimate Plant-Based Chick'n Filets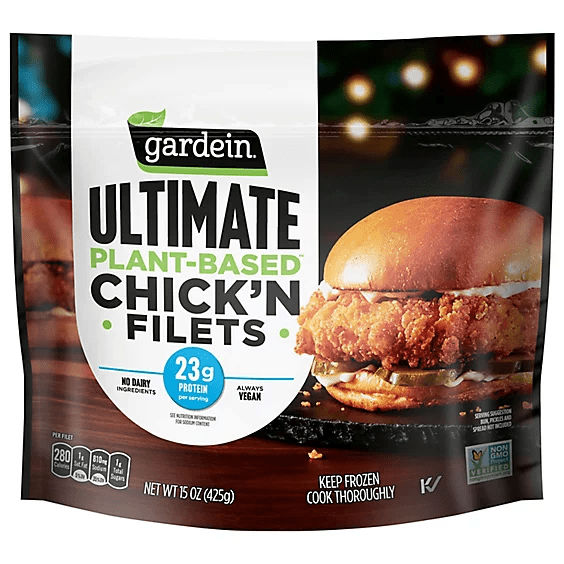 In terms of frozen vegan chicken patties, it doesn't get much better than Gardein's Ultimate line. Well spiced and with a tasty breading that gets crunchy if deep fried or air fried, it's lightyears ahead of many of the long-standing options in the vegan chicken game like Boca Original Chik'n. Their tenders are also very good, but don't quite match the quality and addictive texture of Beyond Breaded Tenders.
10). Trader Joe's Vegan Chocolate Chip Cookies With Walnuts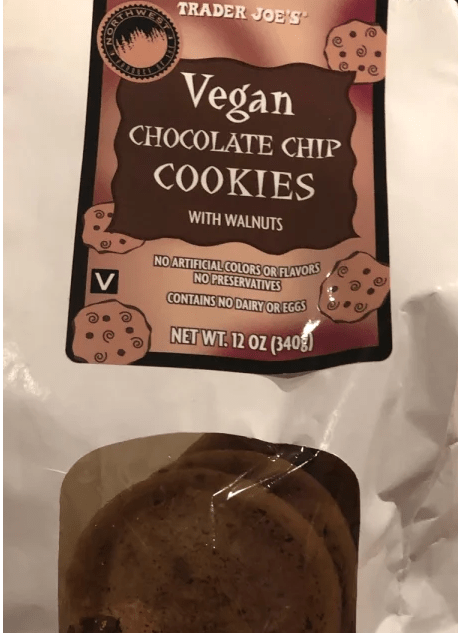 Whether vegan or not, chocolate chip cookies don't get much better than these. They're perfectly chewy and with just the right amount of chocolate chips and walnuts. Non-vegans are likely to be shocked that these are vegan after trying them.