Food technology startup Black Sheep Foods has raised $12.3 million in a Series A funding round to scale production of plant-based meat alternatives.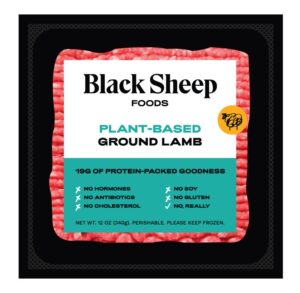 The company has raised a total of $18.05 million since its founding in 2019, with this new round of funding being by far their biggest boost yet.
According to a press release, Black Sheep Foods "has developed a proprietary process to reconstruct the flavors of animal meat using plant materials. The team uses patent-pending technology to isolate the flavor molecules of animal meat, identify the same molecules in plants and reconstruct the depth of meat flavor and mouthfeel."

The company's initial offering is a plant-based lamb product that is offered on restaurant menus across California. Black Sheep Foods aims to expand distribution to eateries nationwide.
"Our minds associate meat with a shape, a texture, and a flavor," said Sunny Kumar, chief executive officer and co-founder of Black Sheep Foods. "While texture has been the focus of meat innovation, flavor is a white space. Our debut lamb made from plants has more depth of flavor, richness and appetizing aromatics than other meats, full stop. We're in the business of giving consumers access to the most delicious meat variety, using plants instead of animals."
Leading the Series A funding round was Unovis, an early backer of Oatly and Beyond Meat, with participation from Bessemer Venture Partners, AgFunder and KBW Ventures.
"Black Sheep Foods is set up to deliver the best-tasting meats that just happen to be made from plants," said Dan Altschuler, managing partner at Unovis. "Animal-free and environmentally sound. We're thrilled to partner with them on their journey."
Prince Khaled bin Alaweed, a prominent investor and founder of Middle Eastern firm KBW Ventures, added, "Black Sheep Foods' lamb is shockingly good; as someone who has grown up with this taste profile, I couldn't believe the authentic mouthfeel and flavor. With taste being a vital aspect of customer adoption, Black Sheep Foods will easily dominate amongst plant-based meats.
"Additionally, game meats are still a wide-open playing field. There's a whole range of taste profiles that Black Sheep will be able to explore, especially with the company's technology, allowing for an amplified flavor, excellent texture, and a strong nutritional profile."