The winners of the 2022 Plant-Based Taste Awards has been announced.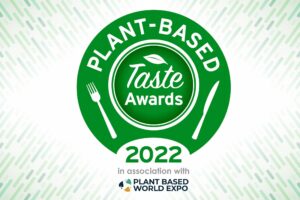 "After over 140 brilliant products were examined and tasted by our judges, we can finally reveal the winners of the Plant-Based Taste Awards 2022", says FoodBev, who runs the awards. "After a tasting session on 7 November, which saw a panel of five judges try over 140 samples, the results were collated, and we are proud to reveal the finalists and winners of all 21 categories!"
These were announced as part of a special awards ceremony hosted in association with Plant Based World Expo Europe on November 30

"Firstly, a massive congratulations to everyone who entered our awards", says FoodBev Media marketing manager Dan Bunt. "The competition, as always, has been incredibly close with the finalists and winners. It has been a pleasure to announce the winners at Plant Based World Expo, meeting all the amazing people behind the companies and also trying the most innovative food in the industry. A massive thank you must be given to the expert panel of judges who tasted over 140 products and delivered the results. I look forward to seeing the future plans of each company and wish them all the best!"
Scroll down to see the complete list of finalists and winners for 2022.
---
Best breakfast product
Green Grizzly – Wholey Sh*t
Bio&Me – Apple & Cinnamon Gut-Loving Porridge Pot
Winner – Jack and Annie's – Breakfast Jack sausage patties
---
Best plant-based yogurt
Winner – Naturli' Foods – JOE'KURT Strawberry
---
Best plant-based sausage
Winner – THIS ™ – THIS™ Isn't Pork Sausages
Century Pacific Food – unMEAT Luncheon Meat
Impossible Foods – Impossible Sausage Made From Plants
Unconventional – Hot Dog Style Sausages
Dawn Farms – Plant Deli Sausage
---
Best plant-based bacon product
CHIN HUAY – Dried Plant-based Jerky
Winner – La Vie™ – Plant-Based Bacon
Remastered Foods – Bacon Rashers
The Raging Pig Company – Raging Bacon
---
Best pie/pastry
Winner – Clive's Purely Plants – Organic Coronation Chickpea Puff Pie
---
Best plant-based cheese
Flax&Kale – Plant-based Mozzarella style Fingers
Honestly Tasty – Shamembert
Saputo – Cathedral City Plant Based Grated
Honestly Tasty – Blue
Vbites Foods – Cheezly Cranberry
Willicroft – Greek White
Winner Saputo – Cathedral City Plant Based Block
---
Best plant-based chicken product
UMIAMI – Chicken Fillet
Eatplanted – Chicken Lemon + Herb
[MOCK]® – Chicken Popcorn
Winner – Impossible Foods – Impossible™ "Chicken" Nuggets Made From Plants
Plant Alternative – Shicken Tikka Kebabs
Unconventional –  Chickenless Fillet
---
Best beverage
Winner – FLAX&KALE – Kombucha Dragon Lemonade
FLAX&KALE – Kombucha Kombucola
FLAX&KALE – Kombucha Mother Africa
Bangs – Organic Ginger & Pomegranate Shot
---
Best savoury snack
Winner – Dirt Kitchen – Beet + Apricot Pressed Bars
Dirt Kitchen – Air Dried Grape Tomato Crisps
CHIN HUAY – Dried Plant-based Jerky
Jack & Annie's – Buffalo Jack Wings
---
Best plant-based fish/seafood product
Revo Foods – Salmon Spread
ONAMI FOODS – Kiss Kiss Nuggets
No Meat Today Company – Blue No Fish Sticks
Winner – endori food – endori veggie sticks di mare
Century Pacific Food Inc. – unMEAT
---
Best plant-based burger
Heura Foods – Burger 3.0
The Vegetarian Butcher – No Crispy Chicken Burger
Winner – Unconventional – Plant Based Burger
endori foods – endori veggie best burger
Flax&Kale – Plant-based 3.0 Beef Burger
[MOCK]® – Chicken Fillet Burger
Switch Foods – Switch Burger
---
Best deli product
The Vegetarian Butcher – NoPepperoni
Quorn Foods – Yorkshire Ham Style Slices
KaTech Ingredient Solutions – Coronation Chicken Filler
Winner – Clive's Purely Plants – Organic Red Pepper Harissa Quiche
Eatplanted – Kebab
---
Best plant-based whole-cut product
Winner – [MOCK]® – Lamb
The Vegetarian Butcher – NoBeef Steak Slices
UMIAMI – Chicken Fillet
Eatplanted – Chicken Breast
---
Best fermented/plant protein
Winner – UMIAMI – Chicken Fillet
Umamamia – Umamifixation
---
Best egg alternative
Winner – TAMAGO FOOD – Yumgo White
Plant Heads – CRACKD THE NO-EGG EGG
OGGS – Scrambled OGGS
---
Best convenience/ready meal
Switch Foods – Switch Foods Koftas
Winner – Grönt – Vegan Tikka Masala
Brand Organic – PerfectSeason Beetroot Patties
Plant Alternative Ltd – Shicken Tikka Masala
Dirt Kitchen – Beet + Apricot Pressed Bars
---
Best dairy alternative
Euro Company – Casa del Fermentino – BuVé
Naturli' Foods – Vegan Spread
Winner – Bear Paw – Madagascan Vanilla Coffee Creamer
Biotiful Dairy Limited – Oat Kefir Drink Cherry
Glebe Farm Foods Ltd – Barista PureOaty Creamy & Enriched
---
Best dessert
Winner – Nanuk NV – Vecuisine Oh My ! Chocolate Mousse
Daiya – Pumpkin Spice Cheezecake
---
Best plant-based ice cream
Rethink Foods – Pink Albatross Tropical Mango
Rethink Foods – Pink Albatross Perfect Roast Pistachio
Winner – Rethink Foods – Pink Albatross Aromatic Choco Coffee
Naturli' Foods – Cookie dough
---
Best confectionary
Winner – Kestrel Foods – Forest Feast NutM!lk ChocoCorn
Kestrel Foods – Forest Feast NutM!lk ChocoPeanuts
---
Best chocolate
Winner – LoveRaw – Nutty Choc Balls
7th Heaven Chocolate – Hazelnut Cream bar
Brand Organic – iChoc White Barista Art
Brand Organic – iChoc Salty Pretzel