According to a new report by BrandEssence Market Research, the global oat milk market is currently valued at $4.157 billion, and is expected to grow to $8.153 billion by 2028.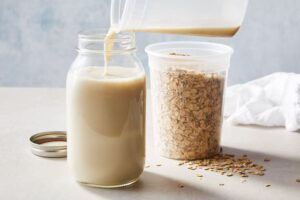 The anticipated jump from $4.1 billion to $8.1 billion represents a compound annual growth rate (CAGR) of 10.1% between 2022 to 2028.
"The increasing adoption of vegan lifestyle, growing number of lactose intolerant people, and rising health cognizance among the masses are primarily augmenting the outlook of this business vertical", states the report. "Further, technological advancements in the food processing sector, rising R&D investments in the field, along with growing disposable income levels of the masses are creating lucrative opportunities for this marketplace to prosper."

Moreover, "growing prevalence of lifestyle-based diseases is adding momentum to the development of the Global Oat Milk Market."
The prominent players characterizing the competitive terrain of the Global Oat Milk Market are:
Califia Farms
Cereal Base Ceba AB
Earth Own Food Company
Elmhurst Milked Direct LLC
Hain Celestial
Happy Planet Foods Inc.
Danone
HP HOOD LLC
Pacific Foods of

Oregon

 Oatly
Rise Brewing.
The report notes that these companies "are striving  to strengthen their position in various geographies so as to enhance their profit trajectory. They are involving in mergers & acquisitions, product launches, collaborations, R&D investments, along with partnerships, among others to stand out from their key competitors."
North America is presently leading the marketplace in terms of revenue share. This is attributable to "the growing prevalence of lifestyle based diseases, increasing adoption of vegan dietary habits, rising disposable income levels, along with surging R&D investments in the field."
More information on this report can be found by clicking here.