The Queen Inn in South Wales has become the world's first vegan steakhouse.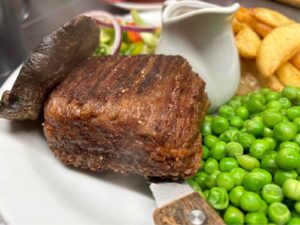 Previously known for their animal-based steaks, The Queen Inn went fully plant-based several months ago, and they've now taken the step of drastically expanding their menu in order to become what may be the world's first ever vegan steakhouse.
In addition to offering a variety of steaks including flank steak, tenderloin and filet mignon, the restaurant offers a plethora of other options including vegan ribs, salmon and shrimp.

The Queen Inn is located at Upper Cwmbran Rd, Cwmbran NP44 5AX, United Kingdom, and is open 12pm to 12am every day except Sunday, when they close at 10pm.
Below are pictures of some of The Queen Inn's menu items, followed by their full menu.
Below is the full menu for The Queen Inn.