Reese's has officially launched a plant-based peanut butter cup in certain U.S. markets as a test run.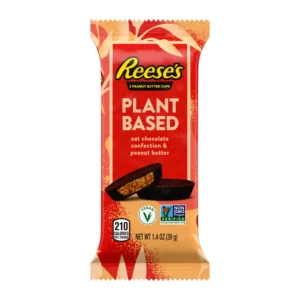 Retailing for $2.49, Reese's has launched their Plant Based Oat Chocolate Confection and Peanut Butter Cups at certain Rite Aid locations in the United States. The plan is for a nationwide launch if the test run is successful.
The vegan cups will contain sugar, peanuts, cocoa butter, chocolate, oat flour, rice flour, dextrose and contains 2% or less of sea salt, soy lechitin, natural flavor and rosemary extract.

The two cups (39 grams) contain 210 calories, 14 grams of fat, 15 grams of sugar and 3 grams of protein.
We will update this article once we garner more detailed information about where these cups are currently being sold at.