When OCHO Candy started work on their plant-based caramel formula, they had no idea it would take them over 3 years to perfect.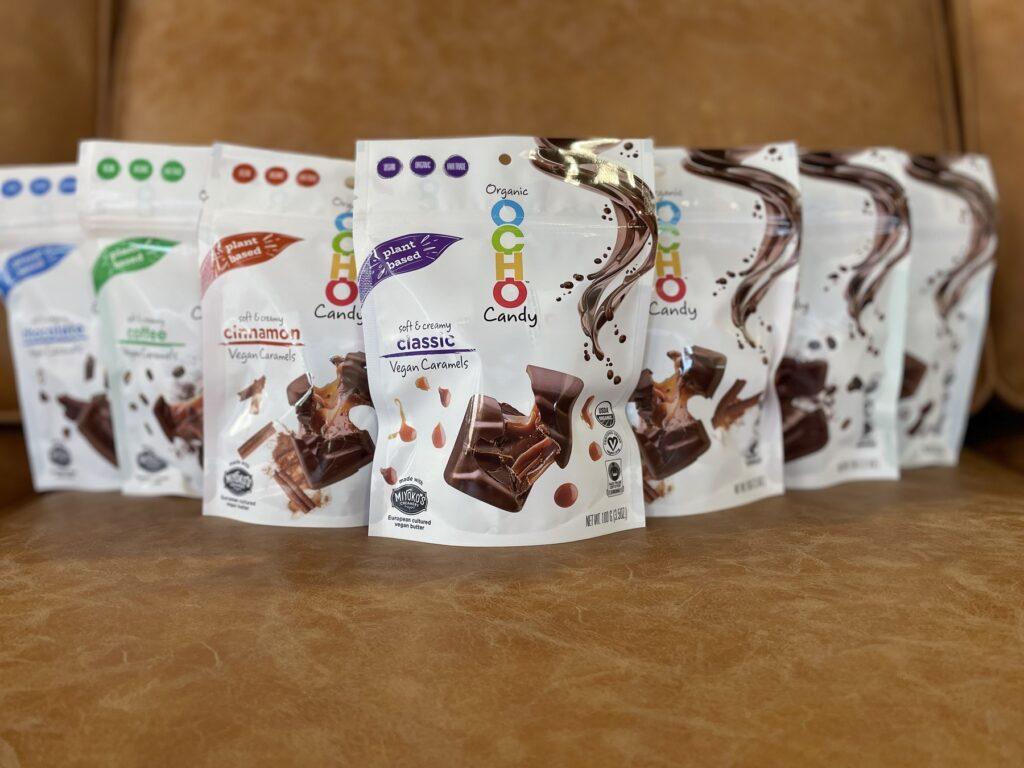 "We had no clue what we were getting ourselves into," said Pat Rebro, the company's Research & Development lead. "All we knew was that vegan and dairy-free consumers deserved a better caramel experience, and we weren't going to stop tinkering until we found a vegan alternative that tasted like traditional caramel."
3 years and dozens of recipes later, OCHO Candy's new line of plant-based caramels is finally hitting shelves. The line – which contains Classic, Cinnamon, Coffee, and Chocolate flavors – fills a snappy dark chocolate shell with gooey caramel to create an indulgent bite-sized treat.

While traditional caramel uses both butter and cream to get its richness and gooey texture, Rebro found a remarkable alternative in Miyoko's Creamery's European-style cultured vegan butter. "We went through almond milk, oat milk, soy milk, coconut cream… you name it, we tried it. It all came together when we tried the Miyoko's. Their vegan butter uses cultured cashew milk, which gets you this great tang that's usually missing from a vegan caramel. Then there's coconut oil, which gives you richness and helps with the caramel's pull. It needed to be rich without being too sweet, and it needed to have pull without being watery. It's an amazing product, and we're so glad we've been able to partner with Miyoko's Creamery to bring the line to life."
Although finding the right dairy alternative was a key challenge for Rebro, the tinkering didn't stop there. Rebro tested every kind of sugar to see what would bring out the flavor of the Miyoko's Creamery European-style cultured vegan butter when cooked into caramel syrup. Then he had to figure out the right ratio of sugars to avoid creating off-notes. Once he had a base recipe, it was on to the other flavors – which meant even more testing. "I needed the right kind of cinnamon bark, the right kind of coffee, the right kind of chocolate. It took me 9 tries to get the cinnamon formula right so that it's a warm cinnamon instead of a hot cinnamon kind of flavor."
Once all the recipes were developed, Rebro's team went to work sourcing ingredients to OCHO Candy's high standards of responsible sourcing. All their products are Organic and Fair Trade certified, which meant every little thing – from the cinnamon bark to the light brown sugar – needed to meet their standards. They also only use whole, recognizable ingredients, like raw cashew butter and whole ground vanilla pods.
Eventually, the machines turned on and it was time for Rebro to taste his creation. "I knew we had something the moment I took my first bite," said Rebro. "I never would have known that it wasn't a dairy caramel, and that was the goal I'd been working toward during those 3 years. When I cracked the chocolate shell and saw the caramel pull apart just like I wanted… it was amazing."
After all that trial and error, OCHO Candy has landed on a remarkable product perfect for vegan and dairy-free consumers. The combination of smooth caramel and rich dark chocolate creates an irresistible balance. But don't just take our word for it – try some for yourself and experience the amazing flavor of OCHO Candy's new plant-based caramel line! Order some today at https://www.ochocandy.com.