The makers of JUST Egg have announced the launch of their new JUST Egg Meals, which they call "sustainable and chef-quality".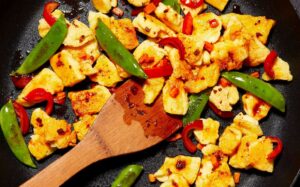 "Developing innovative and delicious new ways to eat Just Egg is at the core of what our team does every day, and I'm immensely proud of this new product because it gives people a simple and quick way to enjoy a wholesome and flavourful plant-based meal to start the day", says Nate Park, director of product development for Just Egg. "We were thrilled to partner with Fly By Jing to add a bold, savoury spice to the dish, which ties it all together."
The new product is made with simplicity in mind: All you need to do is toss the frozen meal in a skillet for a few minutes. The initial offering (with more to come) is Chili Crisp which contains pieces of JUST Egg along with sugar snap peas, roasted red pepper and carrots, all mixed with Fly By Jing's sauce.

The meals contain 9 grams of protein per serving (more than an average chicken egg), are entirely GMO and cholesterol-free, and retail for $7.99 – $8.99.
The JUST Egg Meals will soon be available at numerous retailers nationwide.