Roughly a year after announcing the product was forthcoming, Kraft Heinz has officially launched its new line of vegan mayonnaise at select U.S. location, with a nationwide rollout on the way.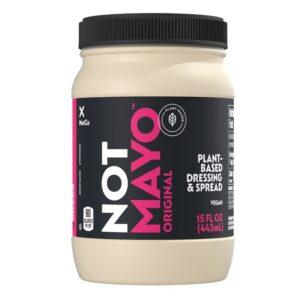 With a suggested retail price of $5.99 for a 12 ounce bottle, NotMayo comes in three varieties: Original, Garlic and Spicy. Initially NotMayo is available across certain retailers in the Midwest, Northeast and Southeast, with a nationwide and Canadian launch planned later this year (no exact date has been given).
Ingredients for the original NotMayo includes: Canola Oil, Water, Native Corn Starch, Spirit Vinegar, Dried Chickpea, Brown Sugar, Salt, Mustard, Natural Flavor, Benozoic Acid, Citric Acid, Lemon Juice Concentrate, Antioxidant (Tocopherol), Sorbic Acid, Spices (Garlic and pepper powder) and calcium disodium EDTA.

NotMayo is being sold under Kraft Heinz's NotCo label, which also sells vegan versions of milk, chicken, burgers and cheeses.