The global pea protein market is currently valued at over half a billion dollars, and is expected to grow substantially in the coming years.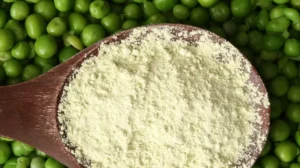 This is according to a new report conducted by Research and Markets. The report shows that the current pea protein market is worth $575 million as of 2022, a significant increase from the $350 million market valuation in 2017.  Pea protein, of course, is used in many modern vegan meat alternatives such as Beyond Burger.
The analysis estimates that the market will grow to $1.1 billion by 2028, roughly double its current value. This would represent a compound annual growth rate of 12% during the 2022 to 2028 periods.

"The growth can be attributed to the rise in the number of vegans, the popularity of plant-based & gluten-free goods, and the nutritional advantages of products made from peas", states the report.
"The market for pea proteins is predicted to increase as a result of consumers' increased focus on their health and the replacement of traditional meat products like sausages and patties with plant-based alternatives. The market for plant-based proteins is anticipated to develop over the course of the estimated period as the number of vegan and flexitarian consumers rises", the report notes.
Due to growing consumer awareness of their health, "consumption of a diet high in protein content has increased dramatically." Furthermore, "due to hectic lifestyles, consumers are forced to look for nutrients in packaged food products. They are unable to regularly consume a nutritionally adequate diet. As a result, producers of packaged foods are adding protein and other nutrient-rich components to food products. The primary causes influencing the adoption of a protein-rich diet are the rising prevalence of chronic illnesses brought on by altered lifestyles."

The report states that supply shortage is the main issue that pea protein producers must deal with. "Agriculture is already being impacted by climate change, though the effects are unevenly spread worldwide", says the report. "The yields of desired crops eventually decline as temperatures rise. Pulses, which are among the most affordable sources of protein, have seen a slight increase in price in the past few years."

The key players in the market, according to the report, are:
Roquette
Dupont
Glanbia Nutritionals
Ingredion
Scoular
Burcon

Shandong

Axiom
Cosucra
Sotexpro
For more information on this report, click here.