A new report details the rapidly growing size of the vegan steak market.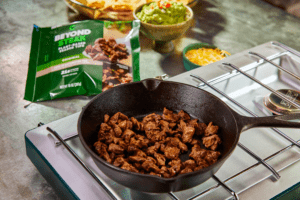 The global market value for vegan steak is estimated to be $598.6 million in 2023, and is anticipated to register a compound annual growth rate (CAGR) of 7.3% from 2023 to 2033. This is according to a report by Future Market Insights. The report anticipates the overall valuation of the market to reach up to $1.13 billion by the year 2033.
"As the trend for veganism spreads across these countries, the demand for vegan steak along with other plant based protein alternatives is rising exponentially in the global as well local markets", states the report. "As people are willing to invest time in learning more about these new food alternatives, vegan steak is anticipated to garner more new consumers in the future."

Key Takeaways from the report include:
The US vegan steak market size was estimated to be around US$ 168.5 million in the previous year. This contributes to around 30.2% of the overall sales of vegan steak achieved around the world.
Germany is the second leading market in the demand for vegan steaks which contributes to around 16.9% of the overall sales. In the European region, it is the largest market that generated a revenue of US$ 94.3 milliom in the year 2022.
In the Asia Pacific region, Japan is the dominant market in the production and consumption of several plant based food products. As per the market statistics report for the year 2022, this market for vegan steaks in Japan reached a market size of $30.7 million.
The United Kingdom is the fastest-growing nation in terms of accepting vegan meat steak alternatives by following a CAGR of 8.5%. Such a higher growth rate is predicted to take the vegan steak market share of the UK from US$ 52 million in 2023 to US$ 126.5 million by 2033.
The overall market for vegan steaks in China is projected to register a higher CAGR OF 6% from 2023 to 2033 concluding at a total value of US$ 97.4 million.
Click here for more information on this report.