The Philadelphia brand, which has been making cream cheese since 1872, has made their first foray into the plant-based market.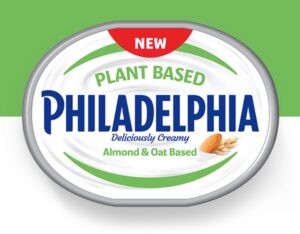 The Philadelphia brand, which is owned by Kraft Heinz, is known for having essentially invented what Americans now know as cream cheese way back in 1872. Although the product was made in New York, it was named after Philadelphia which at the time conjured up the thought of high-quality foods. Now, well over a century later, the company is launching its first-ever vegan cream cheese.
The plant-based cream cheese, which is now available in hundreds of retailers in the Southeast United States, is made with: almond and oat preparation (water, almond protein 6%, gluten-free oat bran 3%), coconut oil, salt, stabiliser (locust bean gum), and vegan culture.

The product, along with two new flavors of plant-based cream cheese that has yet to be announced, will see a nationwide rollout by summer, 2023.
"Philadelphia Plant-Based spread not only provides a solution that mirrors the taste and texture of our iconic Philadelphia brand, but it also reinforces Kraft Heinz's bet to bring plant-based offerings to the masses," says Robert Scott, President of Research & Development at The Kraft Heinz Company,
Kraft Heinz also recently announced the launch of vegan cheese slices.