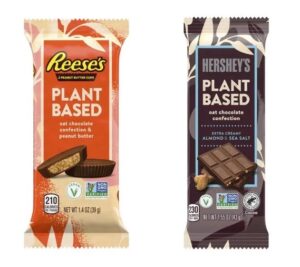 The company also announced the forthcoming launch of Hershey's Plant Based Extra Creamy with Almonds and Sea Salt, which will have a nationwide rollout in April. Both products are made using oat milk.
The vegan peanut butter cups will contain sugar, peanuts, cocoa butter, chocolate, oat flour, rice flour, dextrose and contains 2% or less of sea salt, soy lechitin, natural flavor and rosemary extract. The two cups (39 grams) contain 210 calories, 14 grams of fat, 15 grams of sugar and 3 grams of protein.

The exact ingredients list of the new chocolate bar are not readily available.
"We are excited to introduce these delicious, plant-based options," says Teal Liu, Brand Manager of Better For You, The Hershey Company. "Our purpose is to create more moments of goodness for consumers. Those moments are now more accessible for chocolate lovers looking for plant-based alternatives."
Both bars are expected to retail for $2.49, roughly a dollar more than the standard bars but on par with Hershey's organic line of chocolate bars and peanut butter cups.
Hershey they chose to introduce these products because consumers want more plant-based choices and are looking for products they consider healthier or with fewer ingredients.